"Health is a state of body, wellness is a state of being"

J. Stanford
With the World Health Organisation citing exercise as essential to healthy ageing, the importance of maintaining physical activity later in life for ageing loved ones has never been more evident. Amongst the numerous health benefits to keeping fit, moving more and sitting less can substantially reduce the risk of health problems that appear with age.
We explore some simple ways to incorporate physical activity into your life to ensure you are ageing in health.
I like to move it, move it!
You may have heard the saying "if you don't use it, you lose it". Evidence has shown that a lack of physical activity or not using your muscles can lead to muscular atrophy, the wasting away or loss of muscle tissue. Until our 30's muscles grow larger and stronger, however, from middle age, inactive adults can begin to lose 3-5% of their muscle mass each decade. Age-related muscle loss is known as Sarcopenia and typically occurs at a faster rate over the age of 75, confirming the importance of engaging in physical activity for our older loved ones.
Classically in residential aged care, allied health services are included based on assessed care needs, but this standard approach does not necessarily offer dedicated rehabilitation or physiotherapy to promote physical improvement for residents living in care.
With a different approach to aged care, Oryx Communities endeavours to inspire vitality. Encouraging residents to live their best life, the way they choose. As such, Oryx has launched on-site Vitality+ Wellness Centres to deliver allied health services, including rehabilitation physiotherapy at The Richardson in West Perth and The Queenslea in Claremont, providing a higher standard of living and an enriching way of life for its residents. They provide residents with the opportunity to engage in guided exercise classes in our very own, fully equipped and supervised Gymnasium and Indoor Heated Pool.
Stay on your Feet
In our younger years, we simply rely on core strength for good balance, but as we age factors such as reduced muscle-mass, poor vision or medications may have an impact on our ability to remain steady on our feet. Engaging in regular physical activity can have a significant influence on one's balance; thus, older people who do not exercise are at a higher risk of being affected by falls that can significantly impact health and well-being.
As part of our Rehabilitation and Wellness Packages, residents receive an initial (and ongoing) comprehensive assessment by on-site Physiotherapists and Occupational Therapists, small group exercise physiotherapy sessions and pain management programs. Podiatry assessment and treatment is also provided. In consultation with the resident and their family, goals are determined and shared with our clinical team to ensure a holistic care approach.
Each resident is offered one of three packages encompassing a combination of one-on-one and small group (3-4 residents) physiotherapy sessions to either 1. improve falls and balance, 2. increase strength and mobility or 3. advance functionality. You can read more about each package here.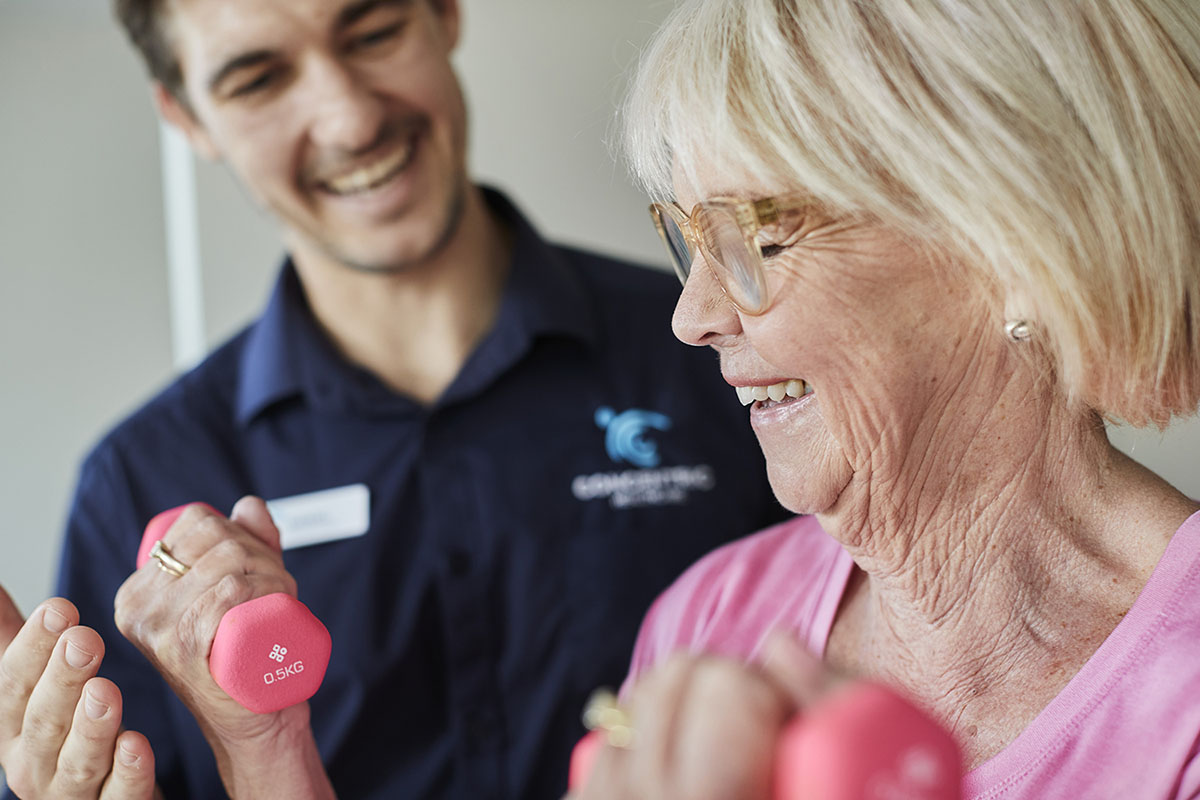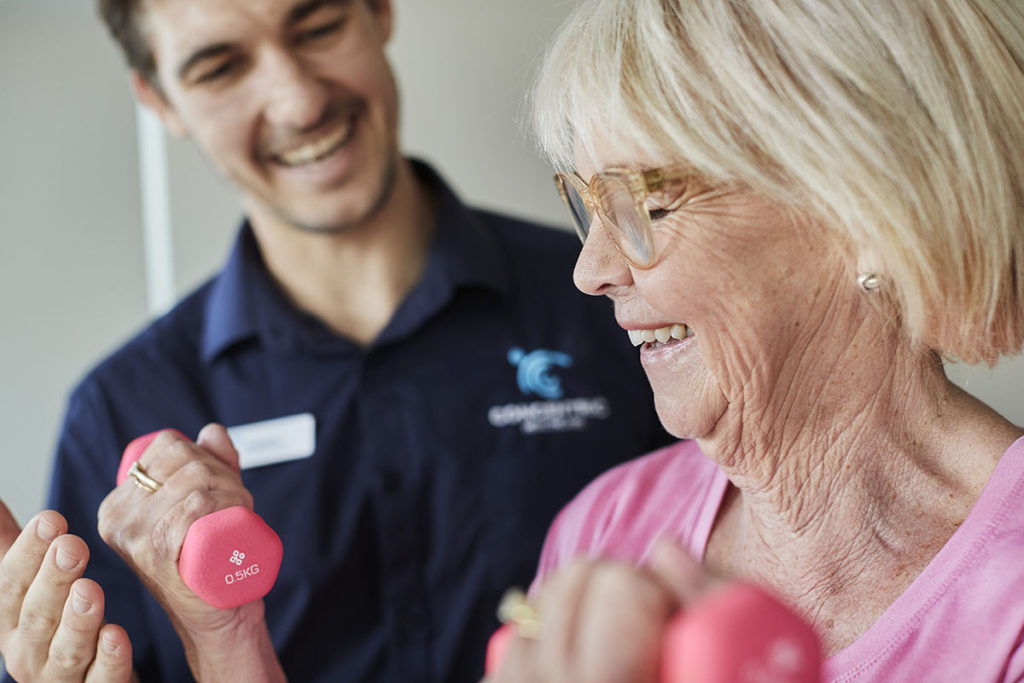 Whether residents are post-surgery, post-fall, or wish to maintain or improve function, our team work with each resident, tracking improvements to obtain best possible outcomes.
Since launching this program, we have seen noticeable improvements in our residents' wellbeing. One particular resident who was experiencing regular, detrimental falls prior to entering The Richardson has only had one minor fall since participating in the falls and balance package. 
Improving core strength and muscle tone is essential to maintaining good balance. Experts recommend partaking in Pilates to develop a strong core.
Move to the Beat
Studies have shown that listening to music can benefit overall well-being, help regulate emotions and lift mood, build endurance and reduce anxiety. An article published by Harvard Health suggests that "Joyful music produced a 26% increase in blood flow, a benefit similar to aerobic exercise". 
Our Vitality+ team employs the use of music to increase engagement and participation. Residents who are living with cognitive impairment especially benefit from the programs 'silent disco', which enables the use of music and clear instructions played through individual headphones. Small group sessions encourage socialisation and sometimes even a (friendly) competitive spark between the residents to see who can engage in the most reps.
Residents have expressed that not only has their functionality and mobility improved since partaking in the Wellness program, their general well-being and confidence have bettered, sleep has improved and they are able to participate in more activities. Supporting an overall improved quality of life.
"Dad's improvement on the one on one program is amazing and Mum's small group program has been very beneficial physically and socially. We are grateful for the kind and professional approach that the team offers and impressed with their smiling faces and positive approach"

Silvia, daughter of resident
---
To learn more about our rehabilitation and wellness services for seniors, or to speak to someone about your situation or that of a loved one, please contact us or book a tour online.