< Back to News
Honouring our Silent Heroes: Support & Resources for Family Caregivers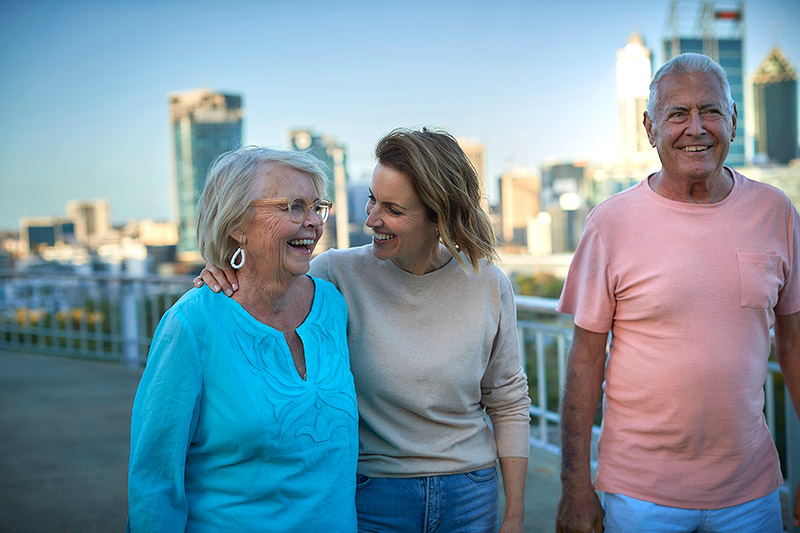 "Too often we underestimate the power of a touch, a smile, a kind word, a listening ear, an honest compliment, or the smallest act of caring, all of which have the potential to turn a life around."

Leo Buscaglia
In the heart of every community, family caregivers perform a labour of love, caring for their elderly loved ones. Often unsung heroes, they provide essential support, ensuring the comfort and dignity of those in their twilight years. For us at Oryx, as a residential aged care provider, recognising and supporting these dedicated individuals is crucial. This article explores the challenges and highlights resources for family caregivers and support systems available to assist them.
Understanding the Journey of a family Caregiver
Caring for an elderly family member is a deeply personal and often challenging journey. It involves managing medical needs, daily living activities, and emotional support. This journey can be both rewarding and draining, requiring significant time, effort, and emotional resilience.
Family caregivers often face multiple challenges, including:
Emotional and Physical Stress: The constant demand of caregiving can lead to burnout, affecting the caregiver's health and well-being.
Financial Strain: Caregiving can be costly, with expenses for medical care, home modifications, and potential loss of income.
Lack of Training: Many caregivers lack formal training in medical or caregiving tasks, leading to uncertainty and anxiety.
Support and Resources for Caregivers
Access to support and resources for caregivers can significantly impact both their well-being and the loved ones they care for. Key resources include:
Educational Workshops and Training: Providing training in basic caregiving skills, health care management, and emotional support techniques.
Support Groups: Facilitating or guiding caregivers to support groups where they can share experiences and coping strategies.
Respite Care Services: Short-term respite care services, like those offered at The Richardson and The Queenslea, can give caregivers a much-needed break. Respite care is subject to availability and clinical approval, our admissions teams can help guide you through this process.
Financial Assistance and Guidance: Advising on available financial support options and assistance in navigating them. Services Australia provides information on payments and services available to support both caregivers and the person they care for. This includes advice for those who may need to take time off work to provide care​​​​.
Mental Health Support: Access to counseling and mental health services to address the emotional toll of caregiving.
Carer Gateway: A national online and phone service that provides practical information and resources to support carers. The Australian Government recently invested $103.4 million to enhance access and pathways for support and services through Carer Gateway​​.
Dementia Australia: Offers support for families and carers of people with dementia. Their services help caregivers support the person to live well at home, continue their hobbies, activities, and manage changes related to dementia​​.
These resources offer a range of support, from financial assistance to educational materials, and are crucial for helping caregivers manage their responsibilities while also taking care of their own well-being.
A Collaborative Approach
Collaboration between caregivers, healthcare professionals, and aged care providers is essential. By working together, we can ensure a holistic approach to care, addressing the physical, emotional, and social needs of both the elderly, their families and caregivers.
Family caregivers are the backbone of elderly care, often working tirelessly behind the scenes. As an aged care provider, recognising, honouring, and supporting these silent heroes is not just a responsibility; it's a privilege. By providing the necessary resources, support and access to 24/7 respite care when needed, we can help caregivers continue their invaluable work, ensuring our elderly loved ones receive the best possible care in their later years.
When it comes a time where it is no longer a viable option to look after your loved one at home and 24 hour care and support is needed, we are here to support you along the way.
From your friends at Oryx
The Richardson Aged Care – 9381 2800
The Queenslea Aged Care – 6280 1900
The Queenslea Retirement Living Apartments – 6280 1999