"The Earth is a fine place and worth fighting for" ~ Ernest Hemingway
The Plastic Free Foundation, which was founded by a passionate team of individuals in our very own City, launched Plastic Free July®, a global initiative to help our planet combat plastic pollution and as such, help future generations (and us) lead happy and healthy lives.
At The Richardson, we are committed to a sustainable future and have implemented many measures to ensure we are doing our part for the environment.

This week we explore a few ways you can be eco-conscious in your home:
The Plastic-free July Challenge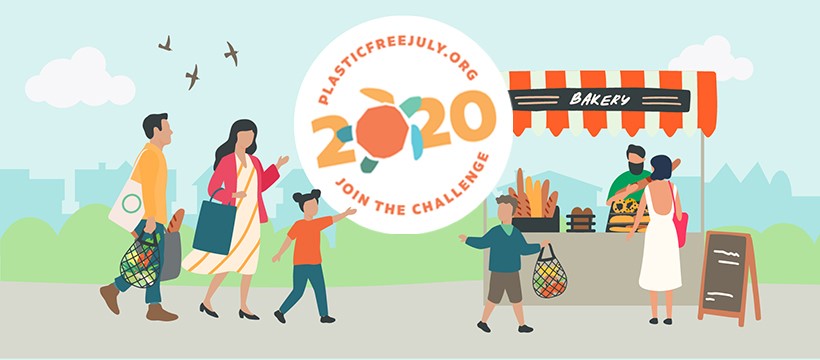 Plastic-pollution is a global issue affecting not only our environment on an international-scale, but also our local surroundings. Over 250 million people worldwide participate in this month's plastic-free challenge. Here at The Richardson, we are committed to helping the environment and recycling, with waste sorting bins on each residential floor and large recycling bins located on-site. A reduction in single-use plastic has also been implemented by using washable bags and biodegradable rubbish bin bags which are made from corn-starch; specifically designed to help break down organic food waste.
Some ways you can reduce single-use plastic are:
Switch out plastic food wrapping for reusable beeswax covers which can be 

purchased

 or try your hand at 

making your own

     
Purchase a 

reusable straw

 and stop reaching for that plastic straw at the shops 
Remember to take cotton bags to the shops and avoid purchasing the plastic bags on offer. If you have been to one of our open days, you may even have a Richardson cotton bag!
Grab yourself a 

keep-cup

 for your coffee and save your wallet and the environment 
Try swapping your plastic toothbrush for a 

bio-degradable bamboo

 one 
Stop buying bottled water and utilise a 

reusable water bottle

 instead. Staff at The Richardson are each given their own reusable water bottle to ensure we reduce single-use plastic bottles in the building.
Whether you start small or eliminate all single-use plastic in your home, every little bit counts towards a world free of plastic waste.
Shop at your local Farmers Market
Attending your local farmers market and purchasing fresh produce can not only support local growers and ensure we are eating healthily; it can also reduce plastic use. Bulk buying goods and avoiding pre-packaged foods reduces waste.
 Take a look at this list of some of Perth's best local farmers markets and take your reusable bags or a cardboard box down to your nearest market this weekend.
Grow your own veggies
Go one-step further and plant your very own veggie patch for a sustainable future! At The Richardson, our residents tend to home-grown herbs and veggies during their weekly garden sessions as part of our lifestyle and activity program. Chef Javier and his team use our organically grown produce in the kitchen to create fresh, healthy meals for our residents daily!
Take a look at this beginners guide to starting your own veggie patch. 
Make your own compost 
Home composting can not only be beneficial for your garden, it can also reduce the amount of waste sent to landfill and therefore help the environment. At The Richardson, our food waste goes into compostable bags each day and picked up by the City of Perth waste management services. The food waste then goes into the compost treatment plant.
Did you know that nearly half of the average household rubbish sent to landfill could have been composted? Compost is a nutrient rich food product for your garden, helping to maintain soil structure and abundant home-grown veggies too!
Composting is easier than you think, take a look at this to guide to learn how to compost at home.
Cooking at home
Whilst many take-away restaurants are adopting more sustainable packaging solutions, cooking meals at home using home-grown herbs and vegetables can reduce unnecessary waste. Avoid items pre-packed in non-recyclable Styrofoam and ask your local butcher or fishmonger to wrap your goods in paper rather than plastic. Better still, for zero-waste, bring containers with you from home and pack your goods straight in.
When you decide to take a night off from cooking and grab some of your favourite take-away from your local restaurant, decline plastic cutlery and request your food is packed in biodegradable containers.
And don't forget to Reduce. Reuse. Recycle. Repurpose. For a reminder on what items are recyclable click here.
If you require support or wish to speak to someone about your situation or that of a loved one, please don't hesitate to contact us on (08) 9381 2800.