"The best therapist has fur & four legs"

~ unknown
If you are amongst the 61% of Australian households that have a pet, you will understand the immeasurable benefits our furry friends bring to our lives. There is nothing quite like the unconditional love of a pet and the purrs, tail wags and licks we receive from them.
Aside from a warm greeting and cuddles, there are many documented health benefits to having a four-legged friend as part of the family. Physical contact with an animal can lower blood pressure and cholesterol levels, reduce stress and ease symptoms of anxiety and depression. Dogs are known as "man's best friend" for a reason, as they are wonderful companions and can abate feelings of loneliness. Not to mention, having a pet encourages getting outdoors and provides more social opportunities.
Pet Therapy
Many of our older loved ones may miss the affection from a pet if they are no longer able to care for one of their own, so it is important to continue a human-animal connection. At The Richardson, we incorporate pet therapy or animal-assisted therapy (AAT) into our lifestyle activities program. Pet therapy is known to have a calming effect on residents, increase social interaction, and generally improve residents' sense of well-being.
Visits from family pets are encouraged at The Richardson. Oryx Communities CEO (and RSPCA Board Member) Michelle De Ronchi's very own pup, Molly, visits the residents weekly.
Animal Companions is a local, not-for-profit organisation who provide therapeutic visits to our older citizens in the wider community. If you wish to volunteer and have a pet who loves people, contact them to check your suitability.
Rhubarb The Richardson Cat
Recently, we welcomed Rhubarb the (robotic) cat to The Richardson. "Ruby" is designed to look, feel and sound like a real cat, responds to petting, hugging and motion just as a real cat would. This two-way, reciprocal response creates fun, joy and friendship. Ruby provides an experience to enrich our residents who may be dealing with cognitive impairment, depression or anxiety. You can see how Ruby our robotic cat works here:
While dogs are most commonly seen in therapy sessions, cats, guinea pigs, horses, and even dolphins have been successfully shown to initiate social contact, provide sensory stimulation and engage people living with dementia in meaningful activities.
Adopt-a-pet
If you are considering getting a pet of your own, make sure to consider what type of animal will be best suited to your lifestyle. Factors to consider include space available in your home, time you may have available, the cost involved including pet insurance, food, grooming and those unexpected visits to the vet. Consider adopting a pet through the RSPCA who will help you to match the best pet to you and your family.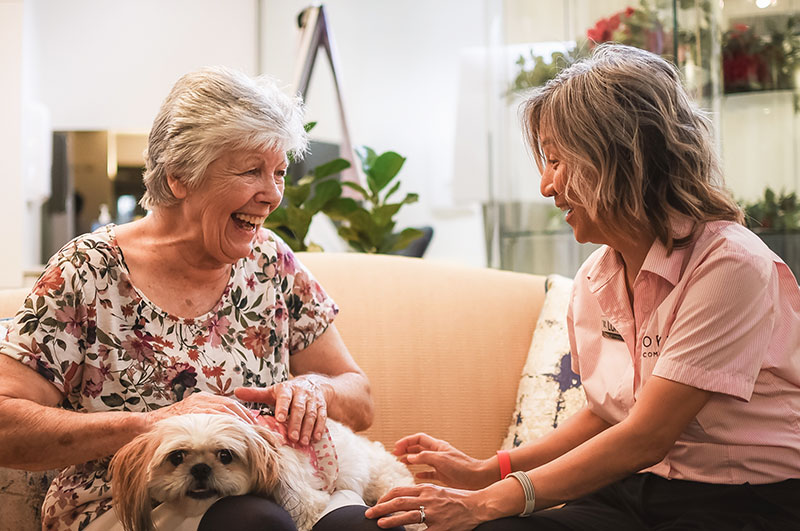 If you wish to speak to someone about your situation or that of a loved one, or would like to book a tour through The Richardson, please don't hesitate to contact us on (08) 9381 2800 or book a tour online.