At Oryx we believe in supporting our residents to live a life full of vitality. In order to ensure vitality and provide the best support to residents living in an Oryx home, it is essential that we employ the best clinical and care staff.
In celebration of Carers Week 2023, we take a look at what it takes to be a Carer in residential Aged Care.
First and foremost, Oryx staff must not only be qualified as a Registered Nurse or Assistant In Nursing, everyone in our team must also encompass the Oryx values of:
Vitality: To create environments and relationships that are invigorating and enriching of our people's lives (and livelihood).
Life: Life is the most valuable thing we have. We treasure and celebrate it. In that we believe that every person, regardless of their circumstances, has a right to live the very best life they can.
Empathy: To be compassionate, caring and driven by the desire to understand, support and meet the needs (and ambitions) of the individual. It is only from this place that we can create places and provide an offering that exceeds the needs of the individual – our residents, their families and our staff.
Advocacy: We are champions for our people – the aged, their families and our staff. We are here for this community and work with restless passion to support them and ensure they all live the lives they seek to live and deserve.
Dignity: To be noble and conduct ourselves with regard and respect to all that we connect with and do so in a manner that is inclusive and elevates the sector and all that are part of it.
What makes a great aged care carer
Residents and their families come to Oryx for its outstanding reputation and beautiful environments. All of our staff must be supportive, understanding and highly empathetic. They must also have a positive outlook to ensure every day is meaningful, and the ability to empower our residents to continue to live their best life.
At Oryx we look for a workforce who are passionate about improving the lives of those they are supporting and excited about working for the greater good of our community.
During the recruitment process we search for people who are:
Reliable and punctual
Respectful and patient
Friendly, happy and positive
Have a good sense of humour
Excited to work in a dynamic team environment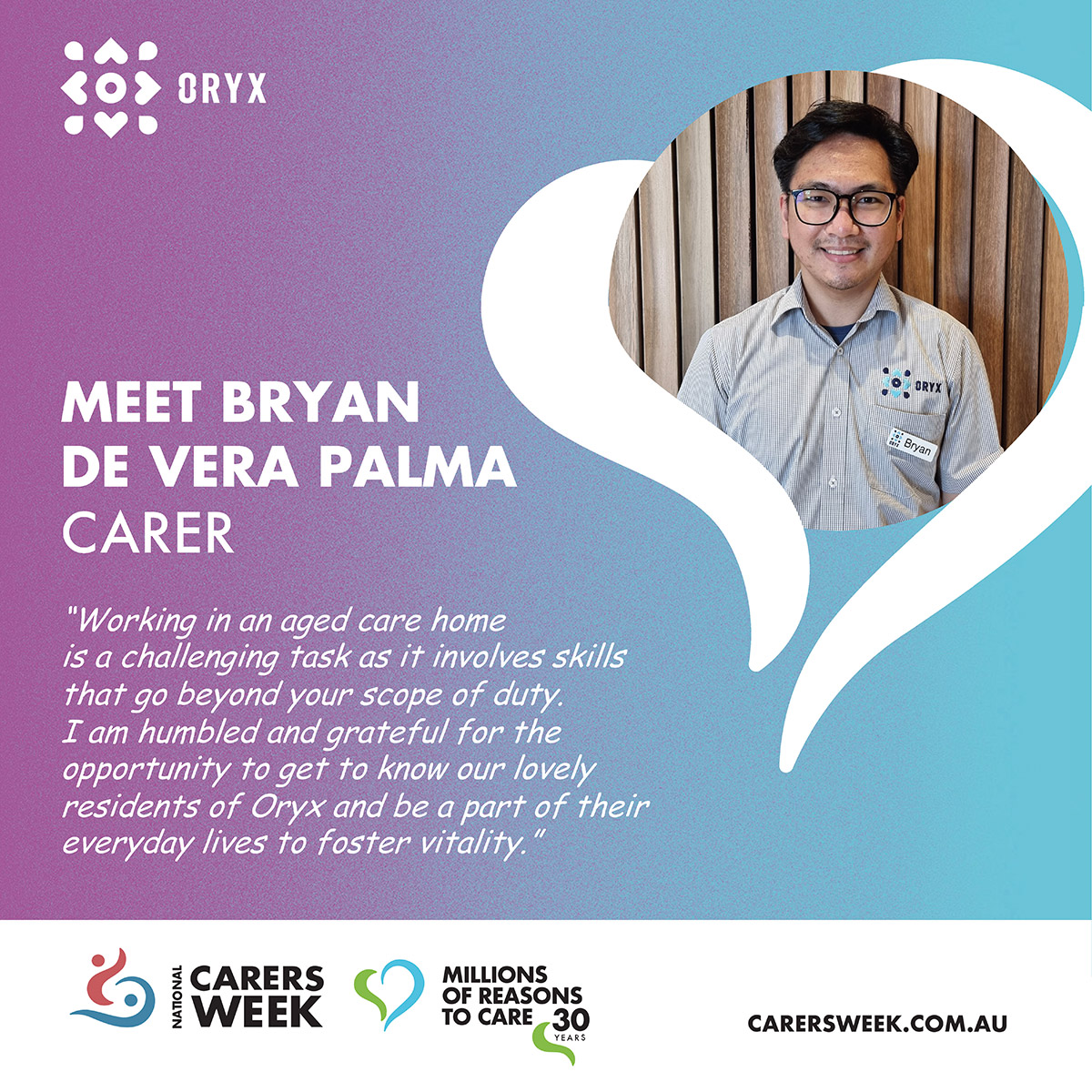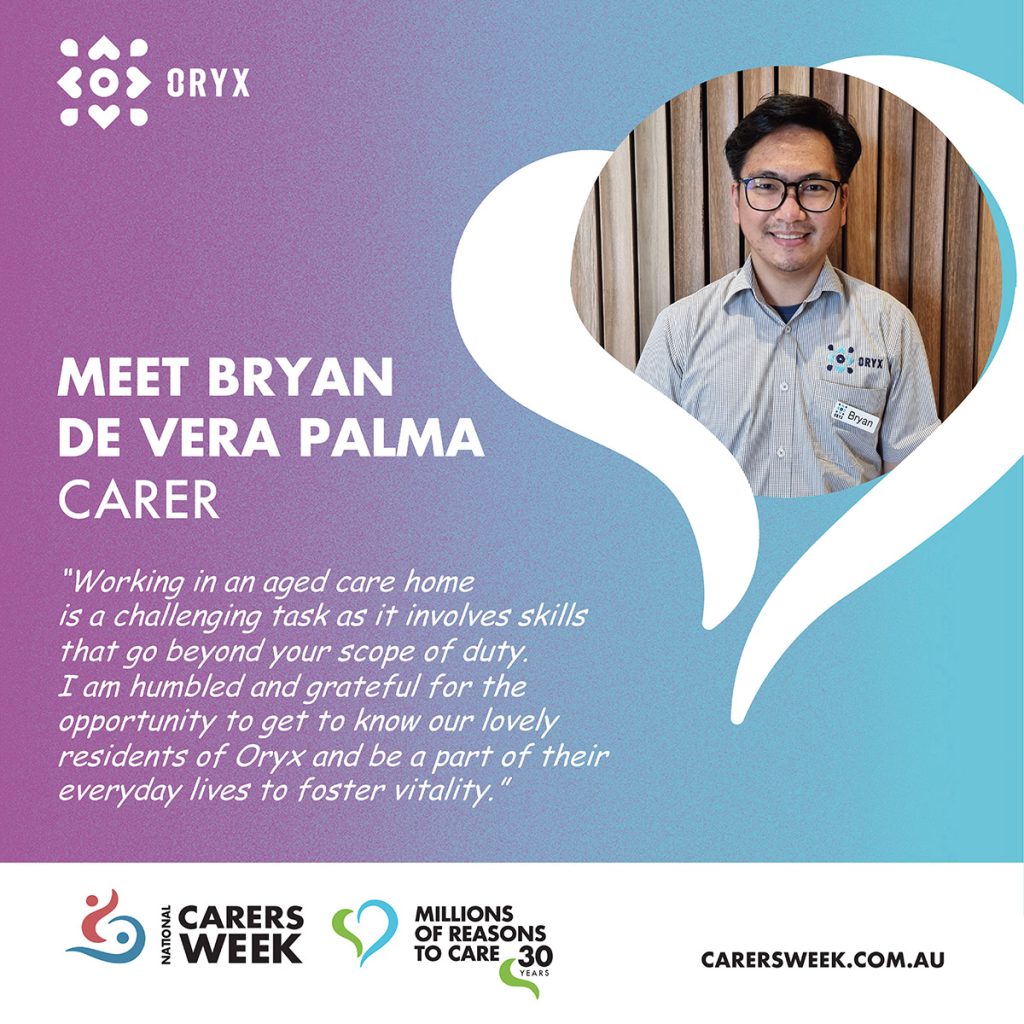 What skills do aged care carers need?
Requirements to work at Oryx as an Assistant in Nursing / Carer:
Minimum Certificate III in Individual Support (Ageing)
Previous experience as an Assistant in Nursing in Aged Care (1 years' experience minimum)
Understanding of quality care and customer service to residents and their families.
Understanding of aged care, the Aged Care Standards and Accreditation processes
Computer literacy and a willingness to learn new technology
Willing to undertake continuous training in Hand Hygiene, Food Safety and COVID-19 training
Understanding and previous experience working with Residents living with Dementia
Understanding of Lifestyle and a willingness to participate and assist residents to engage in activities that give them purpose
Covid-19 Vaccination
Current Influenza Vaccination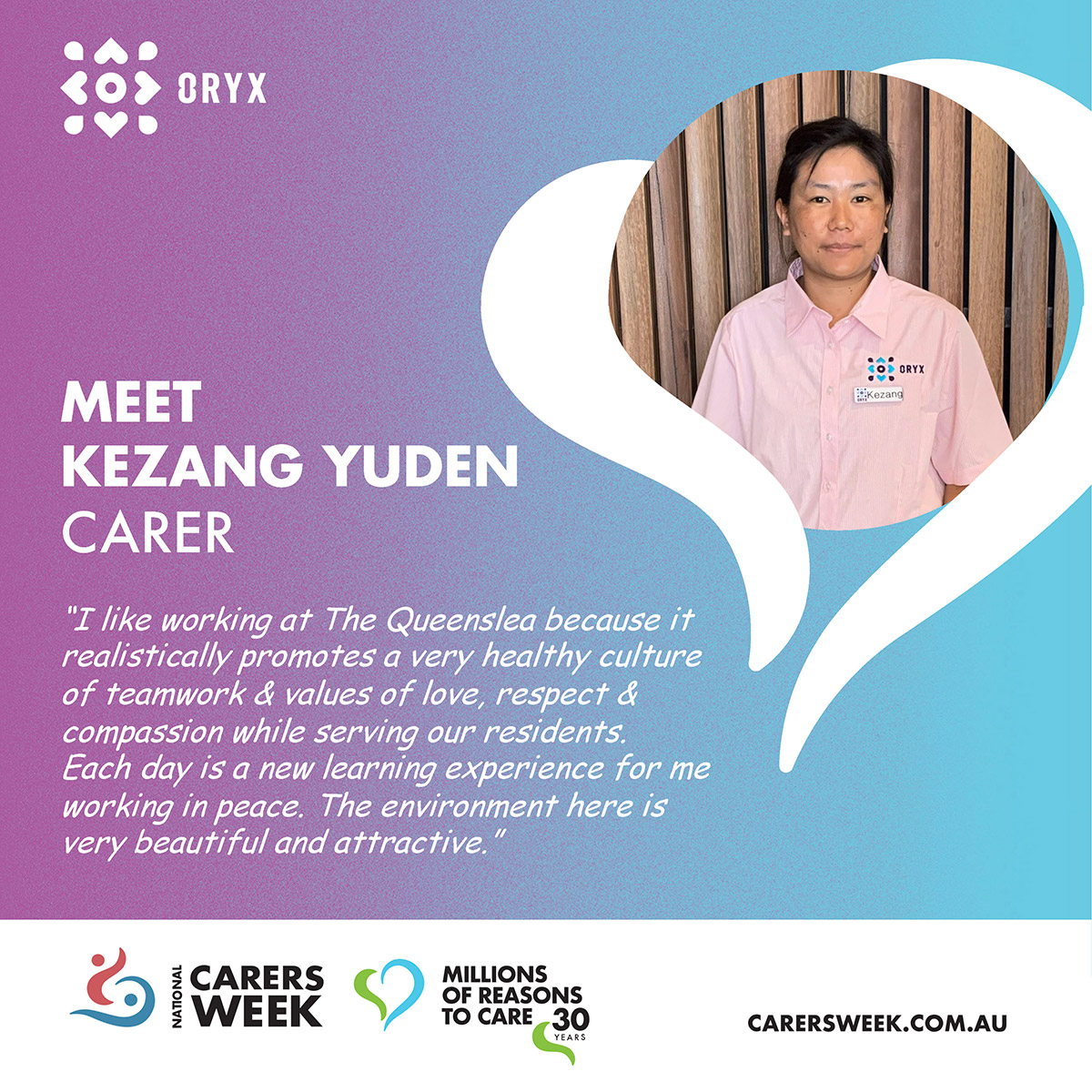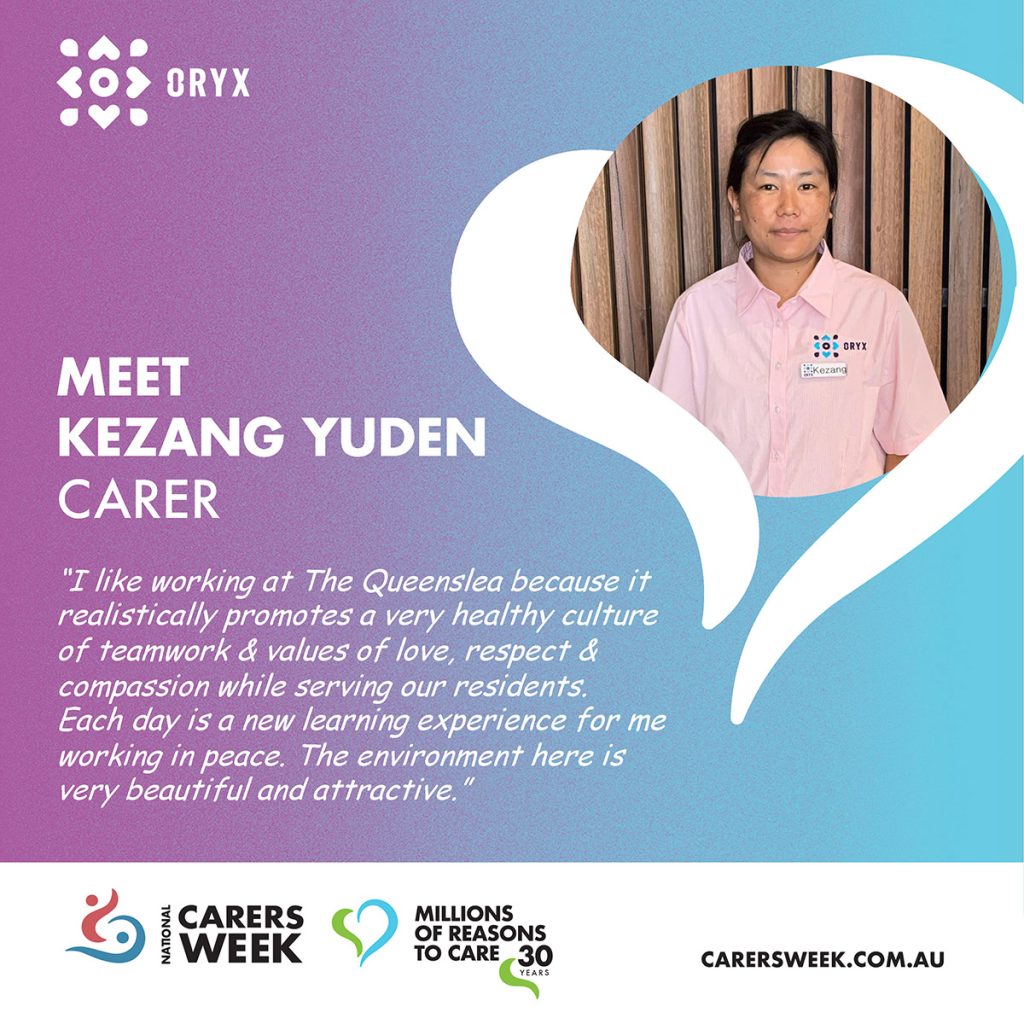 As part of our clinical and support team, our Carers can expect to experience great fulfilment working in an ever-changing dynamic, fun and supportive environment whilst cultivating special bonds with our residents, their families and colleagues. Regular training is provided to keep all staff up to date with the ever-evolving needs of our residents and legislative requirements.
Oryx also host a staff recognition program, our GEM Award, which recognises staff who 'Go the Extra Mile'. Residents, families and colleagues can nominate a staff member to receive this monthly award.
Oryx is a multicultural employer who respect and appreciate all cultures both in our staff and resident community.
---
If you have a passion for aged care and would like to join our specialised team, you can submit your interest and resume online here.
To find out more about our aged care residences and how our 24/7 care can benefit you or a loved one, contact us to discuss your care needs or Book a Tour online.