Recently appointed general manager of The Queenslea Serviced Apartments Alison Rogers has close family ties with Claremont Football Club.
Her sons Bailey and Campbell both play for the Tigers and her family has been part of the club for 10 years.
Oryx, developer of The Queenslea in Claremont, part of the Claremont on the park precinct, is an official partner of the club.
Since 2018, the state-of-the-art building has risen from its foundations into serviced apartments for seniors, residential aged care supported by an on-site health centre and an intergenerational Ngala early learning centre.
Being one of the locals who has watched the construction of The Queenslea over the past two years, Alison said it was easy to see why people were wanting to move in so quickly.
"Besides the incredible apartments with varying designs, the view over the football oval and and down to Claremont is an amazing sight to see," she said. "Likewise, the other side of the apartments, overlooking the showgrounds and surrounding areas, provides highly activated vistas over leafy Claremont and across to the CBD."
Seniors living group Oryx supports local community groups throughout the western suburbs, including the Tigers and the Claremont Lawn Tennis Club.
Claremont Tigers chief executive Darcy Coffey said the club was delighted to be in partnership with Oryx Communities and their incredible Queenslea development neighbouring our ground.
"Along with their stunning new building, we are excited to have its residents as official Tigers members and continue to add to the vibrant community growing right in the heart of Claremont."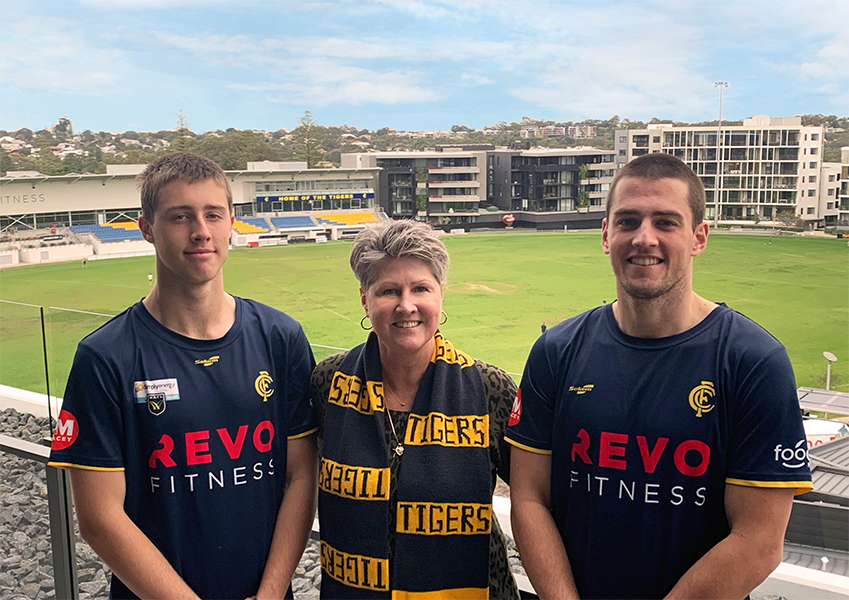 LEFT TO RIGHT: CAMPBELL, ALISON & BAILEY ROGERS FROM THE TOP FLOOR OF THE QUEENSLEA OVERLOOKING TIGER LAND
---
To find out more about The Queenslea Claremont or to book a tour of the serviced apartments or aged care residence, please contact us on  (08) 6280 1999 or book a tour online.