With the relaxation of visitation restrictions in WA, most of us will get the chance to spend some quality time with our Mum on Mother's Day. We know our residents at The Richardson are particularly excited to see their loved ones this Sunday – although, with social distancing still in full swing we can't go in for the usual big hug.
But, no matter, there is still plenty you can do to show your Mum you love her:
1. Play that List
Many of our Mums still remember when they bought their first vinyl record, so navigating digital music streaming can be a little intimidating! This Mother's Day take the time to get online and set up an account for them. Whether it be Spotify, Apple Music or YouTube, you can purchase a premium account subscription and create a playlist with all their favourite songs. At The Richardson our Lifestyle Coordinator uses YouTube Premium to create video playlists for our residents and they are be blown away by the range of music literally available at their fingertips.
2. Magazine Subscription
This is an oldie, but a goodie when you've left the gift buying a little late. A good tip is to visit your local newsagent and purchase the current issue so Mum can start enjoying your magazine choice right away.
Here are a few suggestions ideal for Mum:
Womankind: is an advertising-free women's magazine on self, identity and meaning in today's society. Womankind magazine features leading journalists, authors and artists – offering a signature mix of reporting and commentary on culture, creativity, philosophy, nature, and ways to live a more fulfilling life.
Breathe Magazine Australia: their message is to 'make more time for yourself'. We like to call it a body-and-soul guide to a happier, healthier life. Each issue contains five pillars – Wellbeing, Living, Mindfulness, Creativity and Escaping. Feature articles focus on how to achieve relief from stress, increase resilience, find greater happiness and lead a more fulfilling life.
Adore Home Magazine: is an Australian-based interiors magazine celebrating beautiful, colourful, modern homes and spaces. Once an online-only magazine, Adore Home is now a printed publication, released once every three months.
Remember, if you're sending a magazine to a loved one at The Richardson please note that it needs to be wrapped in plastic so that it may be treated with sanitiser. Alternatively, it will be quarantined before being received.
3. Get Printing
In a world of digital images it is such a treat to look through a love-filled photo book. It doesn't cost the world, but an album of family photos will mean the world to your Mum. You can create the album online and pick-up in-store at Officeworks – if you get cracking now it may even be ready by the weekend.
4. Get Cooking
We all love it when Mum cooks for us, but how often do we cook for her? There is nothing better than coming home to a home-cooked meal that you didn't actually cook! And no one appreciates zero dinner dishes more than Mum. So, show your Mum you really care with a hearty soup, slow cooked casserole or her favourite dessert. If you want to really dial up the nostalgia you can dig out your Mum's copy of The Golden Wattle Cookery Book. Compiled by Margaret Wylie, it's no longer in print, but was first published in Perth WA in 1924. Women's Weekly Food is another old favourite for fabulous recipes which can also be accessed online.
5. A Poem for Mum
If anyone is going to love something you write, it's your Mum. Putting pen to paper to tell her how much you appreciate and love her won't just make her feel fantastic, it will most likely fill your heart with warm fuzzies too. Get the kids to write something for Grandma as well and read it to her over a Mother's Day video call. At The Richardson, video calls are an essential way for our residents to feel connected during COVID-19 and with the Department of Health still directing children be restricted from visiting Aged Care homes, this is an ideal way for them to connect with their Grandma this Mother's Day.
Wishing all Mums a magical day.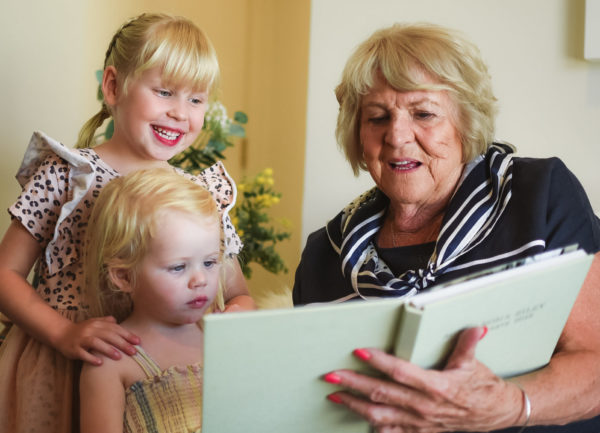 ---
If you require support or wish to speak to someone about your situation or that of a loved one, please don't hesitate to contact us on (08) 9381 2800.