Georgina recently underwent knee surgery, and after a short respite care stay at The Queenslea for post-surgery rehabilitation, she is an example of the brilliant restorative care program offered by Oryx and the Concentric rehabilitation team.
Vitality Plus is our onsite health and wellness clinic, offering both our respite and permanent residents a specialised aged care rehabilitation and physiotherapy service to assist with post-surgery restorative care and effectively manage conditions such as osteoporosis, arthritis, diabetes and progressive neurological conditions.
This type of allied health and rehabilitation service is something which is not typically offered in an aged care residence, and we are proud to be able to offer this award-winning service to our residents.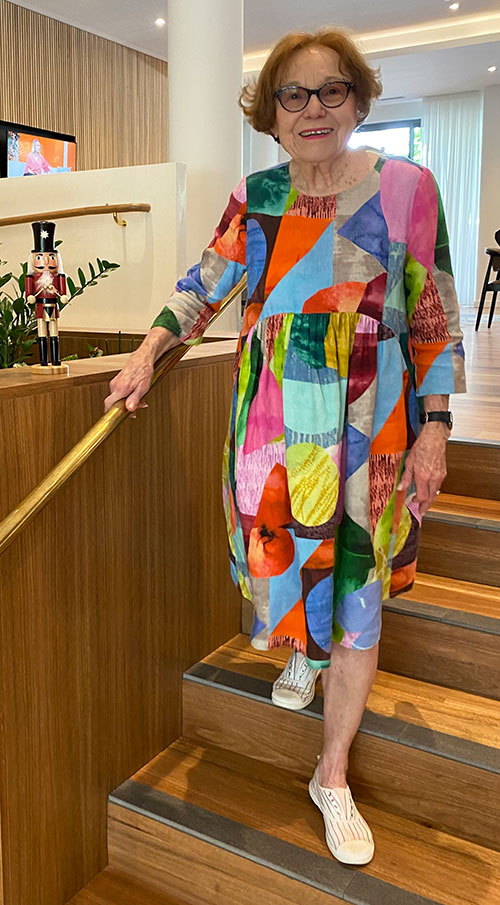 Georgina arrived at The Queenslea Claremont following knee surgery in the hopes of working with our team to rehabilitate and strengthen her knee. She was in a full knee brace and was unable to manage at home. A motivated and eager Georgina attended the Queenslea's state of the art gym every day to rehabilitate her knee in order to reach her goal of conquering 8 steps independently so that she could manage living on her own again.
With the close guidance from our onsite Concentric allied health team, Georgina followed a program that focused on lower limb strength and balance, but most importantly, stairs!
Over her three-week respite stay she achieved her goal and was able to safely return back to her home. A truly fantastic outcome for Georgina.
---
Oryx and Concentric rehabilitation are proud to be able to offer rehabilitation to both permanent and respite residents. Our restorative approach available to every resident is unique to residential aged care and improves the lives of our residents, enabling them to reach their goals.
To find out how our health and wellness services can benefit you are a loved one, contact us to discuss your care needs or Book a Tour online.